Google My Business will start notifying you when a review is removed from your account. You will receive an email when a review is removed from your GMB profile.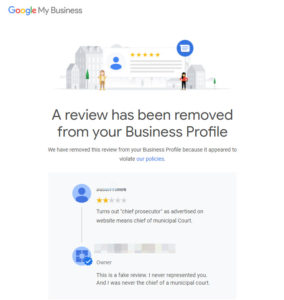 As you all know, it is almost impossible to remove a review. With how hard it is to talk with Google, once you received a negative review, it will likely stay on your account for a long time and it will have a negative effect on your business as a whole.
Dealing with Negative Reviews
There are negative reviews that are only meant to cause damage to your reputation and there are legit reviews coming from past customers.
The only way for a review to be removed is to either speak with the customer and ask him/her to remove or change the review or ask Google to have it removed.
As a business owner, you can always respond appropriately to the reviews. This would allow the other users to see how you respond to negative criticisms.
Final Thoughts
This is an amazing feature because it provides protection to the business owners. This will protect them from fake negative reviews.