Facebook is on a roll recently with all the new features that they were adding to the platform. Although some of the updates are just minor, there are a few important updates that we've noted.
One of these is a new feature that would keep the users inside the platform when they are searching for facts. This new feature is still under testing, but it is definitely amazing since you won't have to go out of the platform to find information.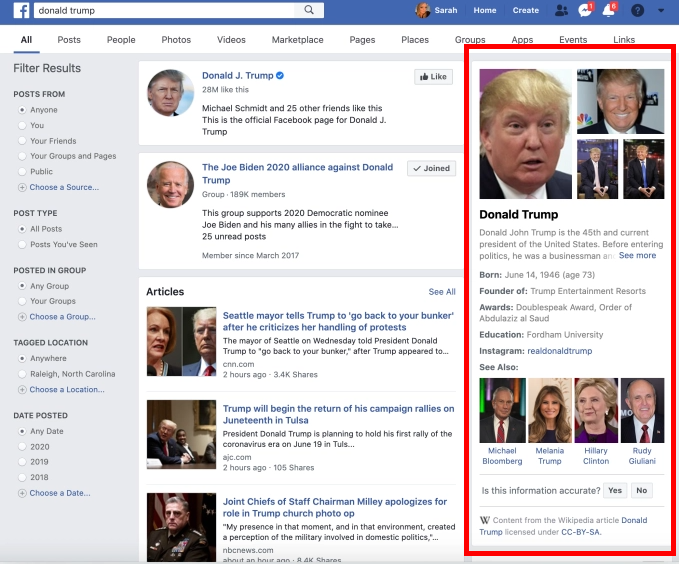 Keeping the Users on the Platform
Facebook will update its Facebook Search function so it would display factual information when the users search for certain topics, figures, places, and interests. Basically, the information would come from authority sites like Wikipedia.
Through this new feature, the users won't have to go out of Facebook because the info that they searched would be displayed on a side panel.
As of now, Facebook is performing a limited test that runs on iOS, desktop, and mobile web.
Is this a Good Feature?
It seems like Facebook is trying to keep its users on their platform, which is a good thing since it was always their goal from the beginning. It is more convenient for the users as well since they won't have to open a new tab or leave Facebook just to search for information.
However, since this feature is still in the testing phase, the results that would be displayed are very limited. It is not a good idea to just compare it to Google search, but most people would still prefer to search on Google instead of doing it on Facebook.
They won't spend too much time opening a tab or exiting the Facebook app and they can get a wide range of information compared to the limited results that FB can offer.
Final Thoughts
Facebook is focused on convenience so they always think that it is better for the users to just do the searching on their platform instead of going somewhere else. If they manage to pull this off and the new search function can provide more comprehensive results, more and more people will surely switch to this new search function.